There are a few things you must do in Tulum, Mexico. Among these are the Cenotes, the Beaches, the Waterpark, and the Restaurants. Read on to discover the best things to do in Tulum! Then, make your plans! You will love this destination! Whether you're looking for a relaxing getaway or a thrilling adventure, this destination has something for everyone.
Here is the list of best things to do in Tulum Mexico
Cenotes in Tulum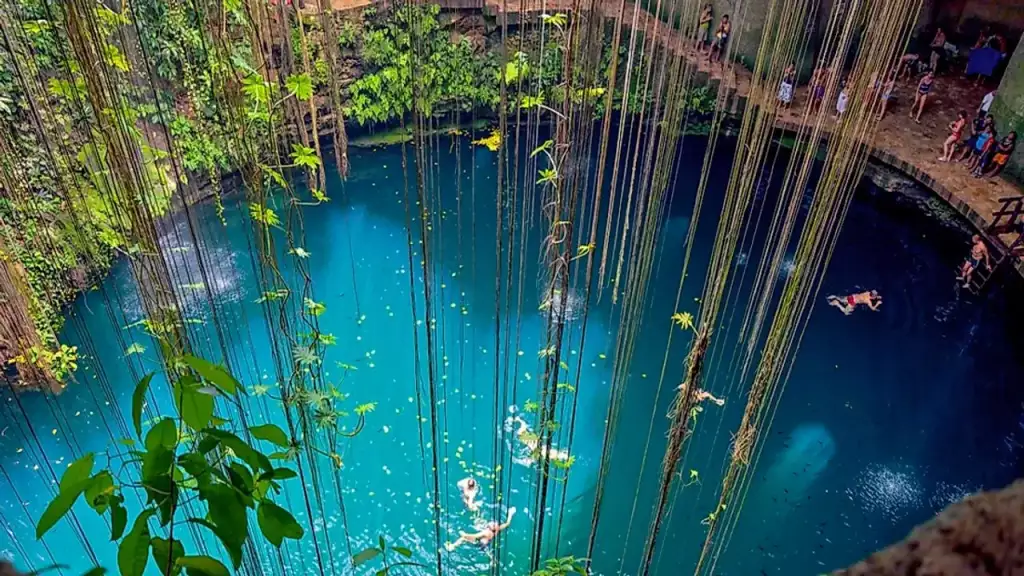 If you're planning a trip to Tulum, you should know that the city has numerous cenotes. Those are sinkholes with water that's warm to the touch and a shade of turquoise due to the light. You can enjoy a refreshing swim in any of the cenotes located in Tulum, but be sure to avoid stepping into any of them if you're a first-time visitor. This popular tourist attraction can be crowded – so you'll want to arrive early and plan accordingly.
If you're visiting a city like Tulum, make sure to rent a bicycle. A bicycle is a great way to see the sights, and it costs less than ten dollars USD. Be sure to check out the bike rental shops in town. The traffic is bad in Tulum, so it's a good idea to rent a bike while you're there. Then you can use it to explore the cenotes.
Several cenotes are located in the jungle of Tulum. You can drive down dirt roads and sometimes take a dirt path to reach these natural sinkholes. One of the most popular cenotes in Tulum is Calavera, which means "skull cenote" in Spanish. You can snorkel and even jump into its crystal-clear water. It's a great way to cool off in the sweltering Yucatan sun.
Another cenote that is less popular in Tulum is Cenote Zacil Ha, which is located next to the Cenote Carwash. The main chamber of the cenote is quite large with teardrop-shaped stalactites. There's also a zipline if you want to go cliff-jumping or diving. Another cenote nearby is Cenote Azul. Regardless of how you choose to spend your afternoon, Cenote Zacil Ha is worth a visit!
Beaches in Mexico
While in Tulum, Mexico, don't miss the incredible X'cacel beach. It's the perfect spot to see turtles, mangroves, and snorkel. For a small donation, you can also get a chance to swim in the cenote. If you're traveling with children, X'cacel is a great choice. It's a great place for families and offers plenty of lounge chairs and beach beds for rent.
Ahau Tulum Beach is another must-see. Here, you'll find the Ven a la Luz sculpture, a UNESCO World Heritage Site. It symbolizes the connection between man and nature and was created by South African artist Daniel Popper to raise awareness about the ecosystem in Tulum. Located south of Tulum, Ahau's eco-friendly beach resort offers a variety of cabins for rent. Some of the beach accommodations have dining facilities and serve light meals and drinks.
While the beaches are picturesque, the winds can be quite strong in Tulum. Although the windy conditions are not ideal for swimming, there are other activities to keep you busy. In the area surrounding the beach, you can try ziplining, snorkeling in an underground river, and enjoying a day at the Jungle Maya Native Park. While you're here, you'll discover stunning natural wonders and explore the local culture.
Another beautiful beach in Tulum is Playa Pescadores, which is located within the Hotel Zone. This beautiful, white sand beach offers stunning views of the ruins in the distance. It also features a variety of activities such as yoga and snorkeling. The beach is also lined with palm trees, and it's possible to see sea turtles here from May to November. And you'll get to enjoy live music on most evenings.
Waterparks in Tulum Mexico
If you're looking for the best waterparks in Tulum, Mexico, look no further. The Xel ha water park is all-inclusive, with a buffet and open bar service available for guests. The park is open from 8:30 a.m. to 6:00 p.m. and is open to kids of all ages. Kids under four years of age go free, while children five to eleven pay half the price of an adult ticket.
The Riviera Maya Resort and Spa has two kiddie waterparks, a lazy river, and a Mayan-ruin waterslide. Guests staying at the resort will also have access to the hotel's spa and nightclub. It's the perfect place to cool off after a long day of exploring the region's famous archaeological ruins. The waterpark is also located near Tulum's beach, so families are sure to enjoy it.
There are several other waterparks in Tulum. The Royal Bahia Principe Coba Waterpark, located between Tulum and Akumal Beach, is a great place to bring the kids. The water park is a lagoon-like setting with numerous slides, colorful statues, and a kids' club. The hotel also offers family rooms and babysitter services. You can even enjoy a meal at Senor Frogs for free!
The Dreams Saphire Resort offers an expansive outdoor water park with fun activities for the entire family. Guests can relax in the kid's club or participate in activities such as surfing, deep-sea fishing, or a kiddie pool. The resort also offers a private beach and several restaurants and bars. Guests can choose from luxurious accommodations with sea or tropical garden views. Guests can also enjoy a gourmet meal at the onsite restaurant and a Caribbean cruise on the nearby sea.
Restaurants
If you really want to know about the best things to do in Tulum Mexico? then, In Tulum, you will find several Mexican restaurants serving traditional Mexican food and modern versions of the dish. Some of the more popular dishes include ceviches, fish tacos, and tuna tostadas. Other options include a few tucked-away local favorites. Be sure to try one of these popular establishments, but remember to plan your visit early. Some popular dishes require a 30 or 45-minute wait.
If you're looking for something a bit classier, check out Gitano, a posh restaurant with a swanky lounge and a cocktail menu. Kin Toh at Azulik is the priciest restaurant in Tulum, serving Mayan-influenced avant-garde cuisine. However, you should note that you'll likely need to make a reservation if you're planning on dining here. Otherwise, you might enjoy Gitano, located in the town's Aldea Zama. Gitano features a seasonal menu and is known for its fresh fish tacos.
ARCA is a micro-seasonal spot that celebrates the local cuisine. The chef, Jose Luis Hinostroza, spent years developing dishes that emphasized the local ingredients while adding bold flavors to the dishes. While the menu features grilled bone marrow and fresh octopus, the restaurant also offers a large cocktail list and a beautifully presented menu. The menu features a mix of local and imported dishes, from fish to meat, from the sea to the shore.
The cuisine is centered on fresh tropical ingredients. You can savor gourmet Mexican dishes alongside international dishes like Pad Thai. Whether you're a vegetarian or a meat lover, WILD has something for you. The food is fresh and many dishes are cooked over an open fire. A cocktail bar at the restaurant uses fresh juices to create signature cocktails. The ambiance at WILD is idyllic, and the setting is beautiful and tranquil.
Nightlife
While the best place to experience nightlife in Tulum is the beach, you will find that the town has more to offer. Nightlife in Tulum includes several different types of clubs, restaurants, and bars. In general, nightclubs and bars provide most of the services, while some locations are more upscale. Here are some ideas to keep you entertained on your night out. After dark, check out the many different options for dancing and drinking.
The city's vibrant nightlife offers a number of different activities, from laid-back dancing to epic parties. From dance parties to festivals to local fare, the city's nightlife scene is sure to entertain you no matter what time of day you visit. There is something for everyone in Tulum. Read on for more information. This guide will help you choose where to go. While in Tulum, check out the Nomade Hotel, a boho-style boutique hotel. The beachfront bar features comfortable pillows on the sand.
If you're looking for upscale Mexican cuisine, head to the popular Mia Cafe. Mia's serves up freshly-made juices and smoothies. They also have a bar specializing in craft beer and 300 different wine labels. And if you're in the mood for a cocktail, try the famous Mulberry Project for a unique experience. For affordable nightlife in Tulum, check out Santino, located on the main street.
The downtown of Tulum has a dual personality – one with a laid-back, backpacker vibe, and a delicious aroma of fresh coffee. While there are no beautiful buildings in the old town, it does offer a unique experience. If you're on a budget, consider staying near Calle Centauro Sur. While this area isn't crazy, it's still packed with fun spots to visit.
Looking for Tulum Map? Here is the Map Image